[vc_row css_animation="" row_type="row" use_row_as_full_screen_section="no" type="full_width" angled_section="no" text_align="left" background_image_as_pattern="without_pattern"][vc_column][vc_column_text]Los especialistas de la capacitación y experiencia en obstetricia y ginecología de la calle 67 abarcan la salud reproductiva total de una mujer en todas las etapas de su vida e incluye una gama completa de atención ginecológica integral a urgente.[/vc_column_text][vc_empty_space][/vc_column][/vc_row][vc_row css_animation="" row_type="row" use_row_as_full_screen_section="no" type="full_width" angled_section="no" text_align="left" background_image_as_pattern="without_pattern" el_id="our-clinical-team" z_index=""][vc_column][vc_column_text]

Dr. Howard Shaw, MD FACOG

Dr. Howard Shaw has been a practicing Obstetrician and Gynecologist since 1995. He graduated Cum Laude from Rutgers in 1987 where he earned his bachelor's degree in biological science. Dr. Shaw was then admitted to the Phi Beta Kappa society and studied at the State University of New York Health Science Center at Brooklyn College of Medicine, which he graduated from in 1991. Immediately after, he began training at Lenox Hill Hospital and since his graduation in 1995, he has been an attending physician there.
In addition, Dr. Shaw has received board certification from the Board of Obstetrics and Gynecology. His expertise includes family planning, menstrual and Pap smear irregularities, annual check ups, pre and post- menopausal symptoms, obstetrics and gynecology.
When he is not practicing medicine, Dr. Shaw enjoys spending time with his wife and two children, Benjamin and Samantha. He currently resides in Manhattan's East Side, which allows him to be immediately available for his patients. Having a family has really instilled in him the desire and ability to care for each one of his patients and make them feel comfortable that they are receiving the best treatment possible.
---

Tracey Fein MD FACOG

Dr. Tracey Fein has been a practicing Obstetrician and Gynecologist since 1984. She graduated with highest honors from Suny Stony Brook with a bachelors in Biology in 1980 where she then continued her medical education. Immediately after, she began her internship and residency at Lenox Hill Hospital where she was honored with the Outstanding Chief Resident Award in 1988. She is an expert in treating Genito Urinary Syndrom of Menopause, including the Mona Lisa Touch Laser [an FDA approved, safe & painless office procedure].
Dr. Fein, who is a member of the NYS Medical Society American Board OBGYN, is also an author. She published her first book called "The Menopause Plan" in 2016.
---

Dr. Will W. Lee, MD FACOG

Dr. Will W. Lee is a Gynecologist and a Women's Healthcare Specialist providing a premium and highly attentive clinical service for all of our patients. He was educated at Dartmouth Medical School and completed his Obstetrics & Gynecology residency training at Boston Medical Center/Boston University Medical Center integrative program.
His past experiences include proudly serving our country as a medical officer and Obstetrician & Gynecologist with the United States Air Force Medical Corps. Dr. Lee is here to listen to your unique health concerns and will advocate the treatment options that best meet your needs. He has a special interest in office-based infertility assessments, minimally invasive procedures, and welcomes second opinion consultations for all gynecological disease states.
I have specialized fellowship training in Fertility Medicine/ Assisted Reproductive Technologies (A.R.T.) from one of the largest NYC Fertility Centers; thereby, affording our patients a timely workup to help you in starting a wonderful new family. I am available everyday and will work with you from the moment you are evaluated and plan a customized ovarian stimulation cycle or a more natural holistic approach. ALL infertility patients are seen regardless of age and can reach me during off hours. You are NEVER alone and ultimately will feel secure by my approach.
Currently, Dr. Lee's practice does not include hospital-based deliveries.
---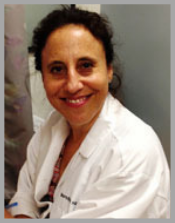 Meredith Halpern, MD

Meredith Halpern, MD, is board certified Obstetrics and Gynecology physician with two-plus decades of dedicated care to women's reproductive health. She earned an undergraduate degree from State University of New York at Binghampton, Binghampton, NY and her medical degree from Hahnemann University School of Medicine in Philadelphia, PA. Her post-graduate experience includes a residency in Obstetrics and Gynecology from Temple University in Philadelphia, PA.
Dr. Halpren has provided OB/GYN services to inpatient, outpatient, and private practice settings. She has served as a Clinical Assistant Professor, Department of Obstetrics and Gynecology at Tisch Hospital of the NYU School of Medicine.
Since 2006, Dr. Halpren's strong dedication to women's health care includes multiple medical mission trips to El Salvador.
She always offers patients the time, compassion and expertise all women look for in a healthcare provider. We are delighted to have Dr. Halpern as a member of our gynecological medical team. She sees patients at our Downtown office at 139 Centre Street. Currently she is not offering obstetrics services.
---

Shira Plonka, MS, CGC FACOG

Shira Plonka is a board-certified genetic counselor and a member of the National Society of Genetic Counselors (NSGC); she earned her Master of Science in Human Genetics from Sarah Lawrence College. Prior to receiving her master's, Shira received an honors degree in psychology and social work from the University of Waterloo. Shira has held internships in many of New York City's top hospitals, acquiring a broad exposure to many disciplines and specialties, including cancer and pediatric genetics.
Shira focuses on preconception and prenatal genetic counseling: carrier screening, prenatal genetic screening, and diagnostic testing. She provides information about the risks of chromosome abnormalities, birth defects, genetic conditions, and teratogen exposure to individuals, couples or families. Shira is committed to informing patients about potential genetic risks, enabling them to make informed decisions for a current or future pregnancy in a supportive and non-directive environment. This process assists patients in making the best choices for themselves in the framework of their personal and cultural beliefs.
---

Dr Fred Gonzalez FACOG

Doctor Gonzalez is an American Board of Obstetrics and Gynecology and is certified in Maternal and Fetal Medicine. He earned his Doctor of Medicine License in New Jersey in 2017, and he also received a citation of Honor for the office of the President Borough of Queens. He also continues his medical education, and in 2017 he attended the Society for Maternal and Fetal Medicine Meeting and Courses about Prenatal Genetics including Tools for Today and the Ever Expanding Genomic Horizon and Hands-on Simulation for Ultrasound-Guided Invasive Procedures in Las Vegas.
Doctor Gonzalez also speaks fluently Spanish, English, and can speak a little bit of French.
---

Dr. Ira Jaffe DO, FACOG

Dr. Ira Jaffe is a Diplomate of the American Board of Obstetrics and Gynecology, a Fellow of the American College of Obstetricians and Gynecologists. He attended the New York College of Osteopathic Medicine for medical school and completed his residency in Obstetrics & Gynecology at St. Vincent's Hospital and Medical Center in Greenwich Village. Dr. Jaffe brings his expertise in high-risk obstetrics, vaginal breech deliveries & VBAC. He has a very low c-section rate and is committed to helping women manage high-risk pregnancies resulting in a normal birth experience.
In addition to these expertise, Dr. Jaffe is specially trained in osteopathic relief of pregnancy back pain.This training is based on a model of health and healing that focuses on the whole person as opposed to one organ at a time and gives him the ability to offer effective, safe treatments for the common aches and pains that accompany pregnancy and the post partum period.He has extensive experience performing laparoscopic hysterectomies, managing ovarian
masses, treating endometriosis and performing procedures that allow a woman to go home the same day of surgery and resume normal activities within 1 to 2 weeks.
Please read 
this article
 on vaginal seeding featuring Dr Jaffe.
---

Ruth Fischer, P.A.C FACOG

She works as our full-time Physician Assistant at ROSH Maternal-Fetal Medicine. A graduate of SUNY Downstate's Physician Assistant Program, Ruth has become an expert at navigating through OB/GYN care. Alongside graduating cum laude at Brooklyn College, Ruth's expertise also includes holding a certificate as an Emergency Medical Technician. Ruth has been trained to assist and manage a broad range of patient care issues in both inpatient and outpatient OB/GYN settings. She truly provides increases in patient satisfaction and ensures continuity of care.
---

Ellen Kolman, PA

Ellen received her undergraduate degree in molecular biology from Skidmore College in Saratoga Springs, NY. She earned her master's degree in Physician Assistant Studies from SUNY Upstate Medical University in Syracuse, NY.
Upon completing a postgraduate Emergency Department Fellowship, she transitioned into OBGYN to follow her passion for Obstetrics and Women's Health. She places emphasis on health education, preventative care, diagnosis, and treatment of women to have a positive impact on their lives.
Ellen is originally from Upstate New York. In her free time, she enjoys playing field hockey, hiking, cooking, traveling, and spending time with family.
---

Sara Davis, Nurse Practitioner

Sarah completed her undergraduate education at Samford University in Birmingham, Alabama. She remained in Birmingham where she worked as a labor and delivery nurse for four years. She went on to complete graduate school at The University of Alabama before relocating to New York City. As a board certified family nurse practitioner, Sarah strives to provide the highest quality of holistic, compassionate and evidence-based care to women across the lifespan.
Visit the caring gynecologists and obstetricians at 67th Street OBGYN in NYC, for 2D, 3D and 4D fetal ultrasound, prenatal, and ob-gyn services.
Call them today at 212-249-3949 or click here to make an appointment with the doctor of your choice.
[/vc_column_text][/vc_column][/vc_row]